About IPC - Irwin
IPC Irwin is expert in the OEM design and manufacture of innovative custom-designed school laboratory equipment.
IPC Irwin is the trading name following the amalgamation of IPC Electronics Ltd.and Irwin Science Education Ltd. earlier in the year. Both these companies have had many years provided high quality education equipment throughout the UK and overseas. The combined company is now based at the IPC premises in Cumbria following a move earlier this month. The combining of the two operations allows the company to have greater capacity and with this increased flexibility and service to all our customers. The new operation should be fully up and running for the New Year.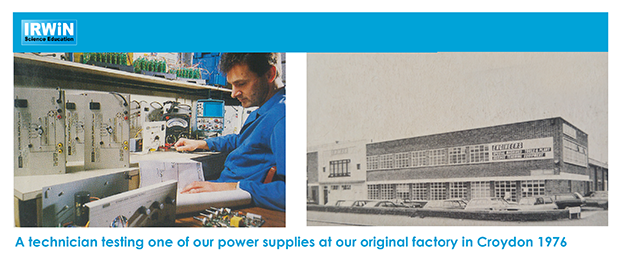 What do we do?
IPC - Irwin leads the way in design and development of science apparatus for education. We believe we are the only UK based company currently engaged in design and development. We work with Science Advisors, Curriculum Developers, the Institute of Physics, Chemistry and Biology as we all the Royal Microscopical Society, Teachers, Technicians and Students to ensure our products are relevant, and provide good educational value as well as being reliable and competitively priced.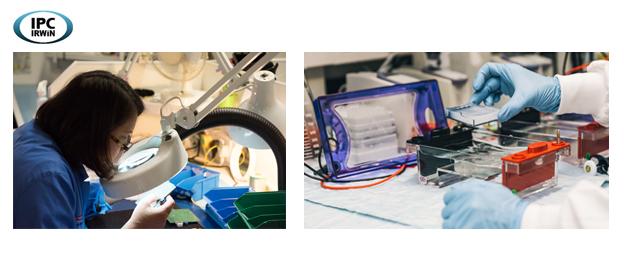 Manufacturing
IPC - Irwin is still a UK manufacturer and works with other British and European manufacturers to ensure continuity of design and quality. We can even offer a bespoke specialist manufacturer of unique products should you require it and are happy to talk to you about any specific modifications you would like us to make to our standard range of products.
Our Approach
We pride ourselves in providing excellent technical support. We offer this not just for Irwin equipment but for all science equipment used in school laboratories, no matter how old. We believe that many companies have withdrawn technical support and can only offer information on prices or if goods are in stock. We aim to help you get the best out of all your existing and new equipment as part of our service.
IPC - Irwin News
IPC & Irwin Science Education Merge
IPC Electronics and Irwin Science Education have merged to form a dynamic design, development and manufacturing company.
IPC has been involved in research, development and production for many years and was a natural progression for both Irwin & IPC to bring together their expertise and facilities to offer more products and continue design and development to meet the needs of STEAM.
Please visit the IPC website: www.ipcel.co.uk
New Training available for Teacher and Technicians - CPD in Science
Continuing Professional Development for Teachers and Technicians in the UK.
CPD in Science is a new initiative offering CPD in STEAM. CPD in Science's team of consultants has been providing consultancy in STEAM for Ministries of Education around the world who want to develop modern strategies in teaching Science, Technology, Engineering, Art and Maths.
The Consultants develop a bespoke curriculum specifically focused on achieving the objectives of Governments in developing Science in research, industry, agriculture and medicine. They then design a sustainable Teacher and Technician programs and provide practical training courses.
These training courses are now available in the UK. For further information on Teacher and Technician CPD courses, please contact Frank Campbell on frank.campbell@Irwinscienceeducation.com
IPC- Irwin around the World
IPC - Irwin - EduScience UK
Our international marketing operation, EduScience UK opens a new office in Dubai.
For all of our customers in the Middle East and North Africa, we can now ship from the UK and directly from Dubai.
For the full range of equipment, we offer please visit the EduScience website: https://eduscienceuk.com/
International Schools
IPC- Irwin provides a bespoke service to International schools. We supply all resources required, consolidate deliveries and ensure our international customers have excellent communications, technical support and high-quality products
Irwin continues to influence the development of science teaching around the world.
Lebanon
Following consultancy and support for work carried out at the Baptist School of Beirut, Frank Campbell was presented with an award for his contribution to science teaching.
Burkina Faso
Working with Itec Global we have recently supplied a range of equipment including XL Data Logging. Th project with the Ministry of Education in an ongoing project and will be completed in 2020.
Angola
Irwin working with the Ministry of Education in Angola in developing a strategy for teaching and developing STEM. Collaborating with Itec Global, Irwin presented a proposal to the Ministry of Education following the Ministerial summit in Kenya.
Kenya
Irwin was represented at the Ministerial summit in Nairobi and presented to 20 Ministers of State for Education for sub-Saharan Africa.
Uganda
Frank Campbell presented proposals for the future development of science to Ministers from the whole of Sub-Saharan Africa. The paper outlined the importance of science and technology education to the development of al professional skills in reaching targets and objects of the country's industrial and economic development.
Nigeria
IPC-Irwin is currently participating in two major training and development projects in Nigeria