IPC Irwin Powerbase PSU (formerly known as Electrosound Powerbase PSU)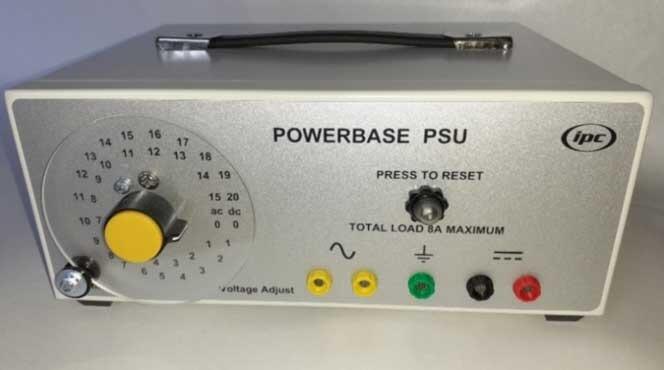 This new addition to the IPC power supply range, the Powerbase PSU is a heavy-duty power supply designed to provide both continuously variable 0-15VAC and 0-20VDC (capacitor smoothed) outputs up to 8 Amps (IPC-0120-P). Both outputs are protected by a single re-settable thermal cut-out and can be used simultaneously up to a combined output current of 8 Amps. The output voltage connections use the industry standard colour coded 4mm output sockets. Both the AC and DC output voltage levels are indicated by means of a calibrated scale.
This power supply also includes our unique maximum output voltage limiting system (VLS), this enables the teacher to set a maximum voltage level for the AC or DC output. As with all IPC power supplies an illuminated on/off switch is mounted on the rear panel, adjacent to a fused IEC mains inlet and supplied with a 2.0m mains cable. The power supply itself is fitted with a carrying handle and enclosed in a robust metal case with a durable powder coated finish.
| | |
| --- | --- |
| Description : | Powerbase PSU |
| Part Number : | IPC-0120-P |
| Electrical Supply : | 220-240VAC, 50-60Hz |
| Dimensions : | 255 x 230 x 120mm overall |
| Mass : | 5.3kg |
| AC Output Voltage Range : | 0 to 15VAC |
| AC Output Current : | 8A (Max.) |
| DC Output Voltage Range : | 0 to 20VDC (capacitor smoothed) |
| DC Output Current : | 8A (Max.) |
| Voltage Limiting Range : | From 0V to full Voltage (both AC and DC) |