GLASS CONDUCTION DETECTOR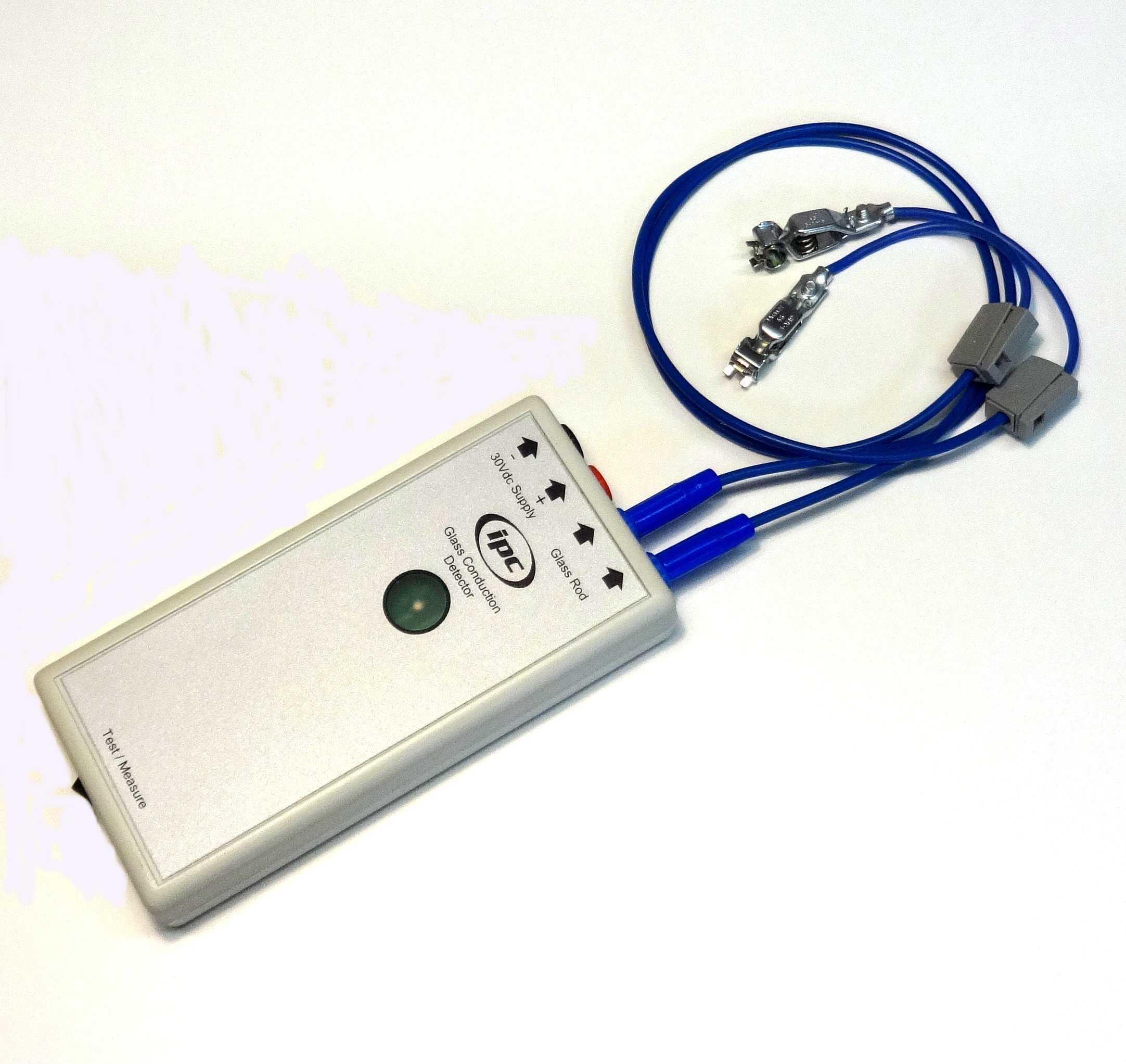 When demonstrating the detection of electrical conduction through heated glass the IPC Glass Conduction Detector (IPC-5025-X) makes the process both simple, quick and safe. 
This detector has been specifically designed to work with 6mm diameter Borosilicate Glass Rods but can also be used in a number of other ways to demonstrate electrical conduction. To use the detector simply fit the two circular spring clips to the glass rod (approx. 10mm apart) and then attach the two detection leads, finally connect a 30VDC power supply to the unit, the IPC High Tension Power Supply (IPC-0294-P) is idea for this. The detector is now ready to use, simply heat the glass rod between the spring clips using a Bunsen flame and as the glass heats up the Blue LED on the detector will begin to illuminate and will increase in intensity as the conduction (temperature) increases. The detector also has the added feature of a Test Switch which allows you to check that the demonstration setup is correctly functioning before proceeding to final heat process. 
Note: Soda glass can be used but care must be taken as this melts more easily. Due to the effects of the heating process the IPC Glass Conduction Detector comes with quick release detachable crocodile clips/leads making it quick and easy to replace them as and when required, please contact IPC for replacements (IPC-5027-X). Also supplied with the detector is a pack of 10 x 6mm glass rod circular spring clips again allowing replacements as and when required, please contact IPC for replacement packs (IPC-5029-X). Note: upon request other sizes of spring clips are offered ie. 8mm etc.
Description : Glass Conduction Detector
Part Number : IPC-5025-X
Electrical Supply : 25 to 30VDC (min. 10mA)
Dimensions : 140 x 65 x 37mm overall
Mass : 130g
Detection Method : Visable Blue LED
Type of Glass : Borosilicate Glass Rod, 6mm Dia.
Connection Method : Circular Spring Clips & Leads
Connection Spacing : 10mm on Glass Rod
Detector Connections : 4mm Sockets (2 x Supply, 2 x Detector)
Detector Conduction Leads : Blue Leads with Quick Release Connectors (500mm overall)